Last weekend, an interesting question was posed in the Game Thread.
How did we get this good?
It's a fair question. But to fully understand how it all happened, you've got to understand where we came from.
Where did it all start?
1994 - Bob Simmons Hired as Oklahoma State Coach
In 1994, Oklahoma State Football was in disarray. The Cowboys were just coming off 3 years of sanctions from the NCAA for violations dating back to the recruitment of Hart Lee Dykes. This included a ban on bowl trips and more importantly, a limitation on the number of scholarships they could give. Head Coach Pat Jones was unable to put together a winning team during these years (understandably) and he left OSU after the 1994 season.
This paved the way for Bob Simmons. 
Now let me make one thing clear. Bob Simmons was not a great coach. His playbook consisted mostly of runs up the middle (with his son Nathan) and quarterback scrambles.
But that's not the point. Simmons did several things that no other coach in the history of the program had done.
They Cowboys hadn't beat  the Sooners in 19 years when he shut them outin Norman . He beat Texas andwon enough games in 1997 to send the Cowboys to their first bowl game in 9 years. Oklahoma State finished that season ranked #24 in the AP poll - something else that the Cowboys hadn't done in years. 
Simmons also recruited very well. RW McQuarters, Chris Massey, Josh Fields, Rashaun Woods, Tatum Bell - all came to Stillwater under Bob Simmons. 
2000 - Bob Simmons Out, Leslie Edwin Miles In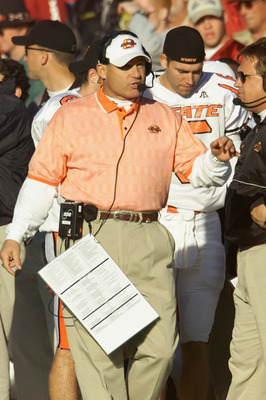 If Bob Simmons is to be credited with getting the ball rolling at OSU, Les Miles should be given credit for giving that ball an attitude.
While Simmons did some great things, his record didn't reflect it.  Oklahoma State was 5-6, 5-6 and 3-8 in the three years prior to Les Mile's arrival. 
Now Les Miles didn't get off to a great start either, but he did one thing in his first season as head coach that will forever be engraved in Cowboy History.
Oklahoma State traveled to Norman to face the Sooners who were, at the time,  the #4 team in the Nation.
Fields to Woods. Back of the end zone. Time Expires. Cowboys Win. 16-13.
Then he did it again in 2002 in Stillwater. This time the Sooners were the #3 team in the country.  Fields to Woods. Yep, he's still open...I still get chills thinking about that game. Everyone in the stands new what was going to happen that day. And it did.
From1989-2001, OSU made one bowl appearance. Each of Miles' last three Cowboy teams played in a bowl.
In more ways than one, this was unchartered territory for OSU fans. Three years in, we were almost becoming accustomed to beating OU and going to a bowl.  Almost.
And that's what Miles did for the Oklahoma State Football program. He brought back a certain level of confidence that had been missing for years. The Cowboys became a more physical team under Miles. They became tough, hard hitting, whatever you want to call it... 
And that still exists today.  Thanks Leslie.
2004 - Les Goes Gator Hunting, Gundy gets his dream job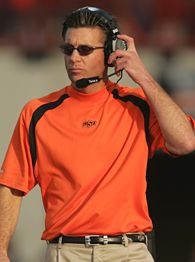 When Miles left in 2004 to take the LSU job, Mike Gundy was named immediately as Miles successor and the 22nd head coach at Oklahoma State. He had after all, been the offensive coordinator under Miles through all of his succeses.
It was a good fit - but it was not without controversy. Was he the best option? Did he have the experience, or the toughness to be a head coach? Were we taking a step back?
Things got off to a rough start for Gundy.
He expelled 11 players, some of whom were potential stars (remember Prentiss Elliot?), and finished his first year 4-7 with just one Big 12 win.  That win however, was against #13 Texas Tech - who played in the Cotton Bowl just a month later.
It was a small sign of things to come.
In his second season, things started to come together. The Cowboys were noticeably more competitive. Sure, they lost some games they shouldn't have but they were in the games.
OSU finished that season 7-6 with a win against Alabama in the Independence Bowl. It was a step in the right direction.
What was going on in the shadows was more important anyway.  The recruitment of Dez Bryant and Kendall Hunter for example would have a huge impact on the future of the program. Oh, and deciding exactly how to make Boone Pickens Stadium the most badass college venue in the country.
In 2007 Gundy posted yet another winning season with a bowl win.  But really, that wasn't the highlight. This was.
In my mind, this is where the program completely changed for the better. I'm not exactly sure why or how but I know this.
He is 32-13 since that rant.
In 2008, things really started clicking for the Oklahoma State Football program. Zac Robinson, Kendall Hunter and Dez Bryant were superstars.  Coach Gundy led the team to their best season in 20 years. OSU was ranked in the top 15 for most of the year and ended the season with a trip to the Holiday bowl where they lost to the Oregon Ducks.
Just a month later, Gundy hired old school defensive coordinator Bill Young with the hope that the days of a weak defense were over.
The team would grace the cover of Sports Illustrated just 8 months later.
In the summer of 2009, the Cowboys had the firepower to shake up the BCS. At least that's what Sports Illustrated thought.
The redesigned Boone Pickens Stadium was complete and was set to be unveiled at a season opening contest against SEC power Georgia. It was perhaps the biggest opening game in the history of the program andthe hype aroundthe Cowboys was unbelievable.
All of the work that Mike Gundy and his coaching staff had done over the previous 3 years was finally paying off.
Oklahoma State beat #13 Georgia 24-10 with the help of a big performance by Dez Bryant and moneother than The Cowboy Defense.  Bill Young had already made his mark after one game. Expectations were high - and then we played Houston.
To this day, I've never seen a more shell-shocked fanbase leaving the stadium. It was like we all knew what had just happened, but didn't believe it.
2 weeks later - 2 of the stars that led OSU to a win against SEC powerhouse Georgia would be watching from the sideline. Kendall Hunter because of an ankle injury and Dez Bryant because of lying to the NCAA about a meeting with Deion Sanders. Oklahoma State refused to fold though. Throughout the season, we saw gutsy performances from players like Keith Toston and some dude named Weeden.
It was a tough time for Gundy, but Gundy made it through with a 9-3 record on the season and led the Cowboys to their fourth straight bowl appearance in as many years.
Once again, the program was moving in the right direction.
Gundy Feels It Coming In the Air Tonight
In January of 2010, Mike Gundy hired Dana Holgorsen from the University of Houston to be the offensive coordinator for Oklahoma State.
Many speculated that this was due to the fact that OSU had been held scoreless in its last two games against Oklahoma and Ole Miss.
Regardless, it would prove to be one of the better moves in the history of the program.
The Cowboys are now in the drivers seat for a South title In what was billed as a "rebuilding year"
Despite a long list of first year starters, Oklahoma State is playing some damn good football.
You could argue that we have the best Quarterback, Running Back and Wide Receiver not only in the Big 12 - but in the country.
So this weekend when you're watching the Cowboys move one step closer to a Big 12 Championship - think about what all it took to get to this point.
The recruiting that was done in 1998 that paved the way for the recruiting in 2008.
The confidence and toughness instilled by the Mad Hatter. 
The vision and hard work that Mike Gundy has put into this program.
How sweet it is.