The last time College GameDay visited Stillwater was 2010 Bedlam. I knew plenty of people too tired or drunk the night before to make it to GameDay the next morning - DO NOT BE ONE OF THOSE PEOPLE. GO!
Hell, here's an idea people: Start partying Friday night at 2 AM and let it last until 11 AM when GameDay goes off the air. Or just go to bed early. Either way, GO!
The greatest GameDay tradition is the sign. Everyone who will be there Saturday should bring their own. Every Fraternity, Sorority, and dorm floor in Stillwater should be filled with students making signs by the end of this week!
And put some thought and time into them! Here is a quick "how to" on sign making, a list of the best of the best this year, and finally a list of ideas to get you guys started.
Post any and all ideas in the comments!
If you have an idea, post it in the comments. If you see an idea you like, make it! You all should try to keep this thread going all week!
Best of College GameDay Roundup
Week 1 Clemson
Week 2 Michigan
Week 3 Texas A&M
Week 4 North Dakota State
Week 5 Georgia
Week 6 Northwestern
Week 7 Washington
Week 8 Clemson
Week 9 Oregon
Week 10 Florida State
Week 11 Alabama
Week 12 USC
How to make a sign: Be noticed!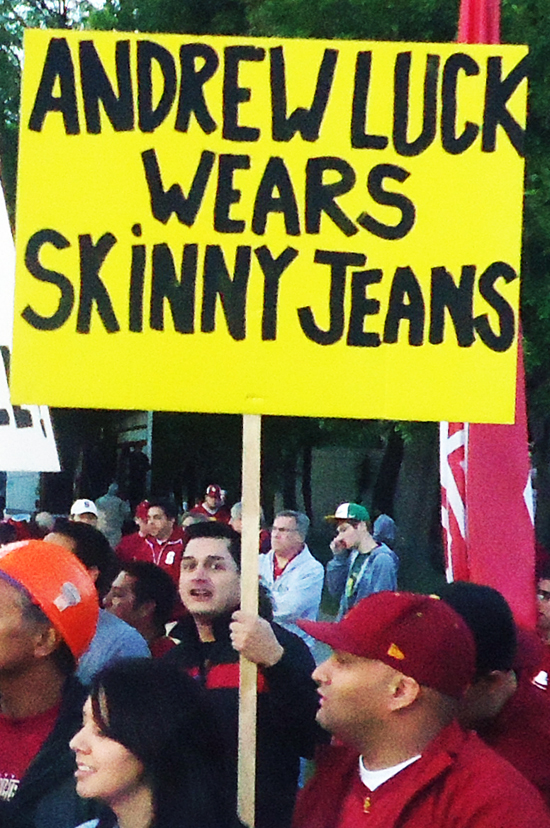 Note the size of the signs and the poles used to hold them up. Think BIG. Nothing is worse than a witty sign that no one can read! The average OSU fan is probably a little shorter than 6' right? If you use a 9' poll you can have a 2' tall sign that will stand way above everyone else, and you won't even have to hold it up.
How to make a sign: Be topical, witty, or just flat out mean
We better see one about the Toronto Mayor who loves crack and OU
Mayor Ford apparently photographed at the gym this weekend. #cbcto #TOpoli pic.twitter.com/uh5aznfpEG

— Trevor Dunn (@trevorjdunn) November 11, 2013
Insert Mack Brown
"Remember when Lane Kiffin had a job" pic.twitter.com/rhDUz50mJG

— Brian Floyd (@BrianMFloyd) October 12, 2013
Attendance and Tarp references should be everywhere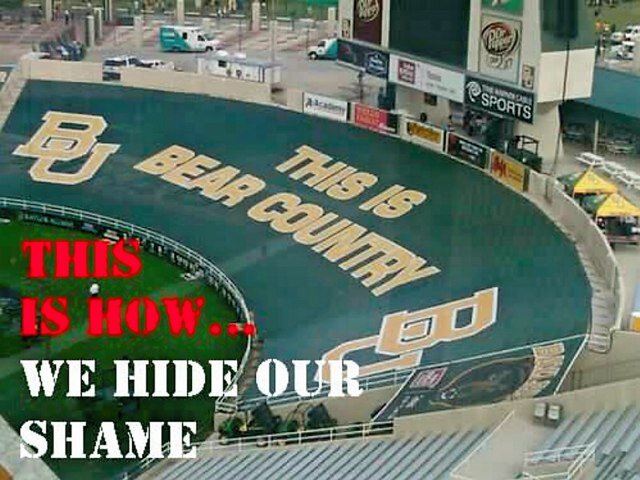 Anything from this gallery with Petty's face or a Baylor Bear instead of GSP from Saturday's fight with Johny Hendricks.

How to make a sign: QUALITY
There are plenty of wanna be Etsy shop owners or art students out there that can get away with writing big block letters on a poster board. For those of us out there without a enough artistic ability to pull that off there is a solution: print it out! The Kinkos on Perkins should be hopping on Friday printing out clever photoshops and big heads, like this:

This one was fantastic - it moves people! All of you Mechanical Engineer majors take note. We expect this or better!
How to make a sign: Memes
Everyone under the age of 30 loves a good meme. Use them!
Obviously, any references to other teams should be replaced with Baylor
Let us not forget, our own meme
Last one, I promise, but by popular demand (for some inexplicable reason)... this is happening. #CCCMFC pic.twitter.com/d05y0XT9E4

— Mike Harris (@TheMikeHarris) November 5, 2013
And finally, we must have the sad confession bear
Whetsell's personal favorite...